■ Overview
specifications of Valve bags weighing packaging machine
| | | | | | | | | | | |
| --- | --- | --- | --- | --- | --- | --- | --- | --- | --- | --- |
| Model | Power (kw) | Voltage (v) | Quantity Range (kg/bag) | Packing Speed (bags/h) | Packing Accuracy | Air Source (Mpa) | Air Consumption | Weighing Form | Overall Dimension(mm) | Overall Weight (kg) |
| TDF-01 | 3 | 380 | 10-50 | 40-120 | ±2% | 0.4-0.8 | 0.5 | Gross Weight | 670×1100×1030 | 175 |
■ Specifications
application ofValve bags weighing packaging machine
Valve bags weighing packaging machine are specially used in the packaging of powder materials, Dry mortar, cement, putty powder, etc.
Introduction to equipment of Valve bags weighing packaging machine
Valve bags weighing packing machine is powder weighing packaging machine, specially designed for dry powder mortar,cement,chemical etc. The microcomputer system of this equipment produced by industrial-grade components using STM technology. It has the advantages of small volume, strong function, high reliability, good adaptability, etc., is a set of weighing and controlling in one machine. It has special capability of anti-jamming and can be long-term used in harsh environment.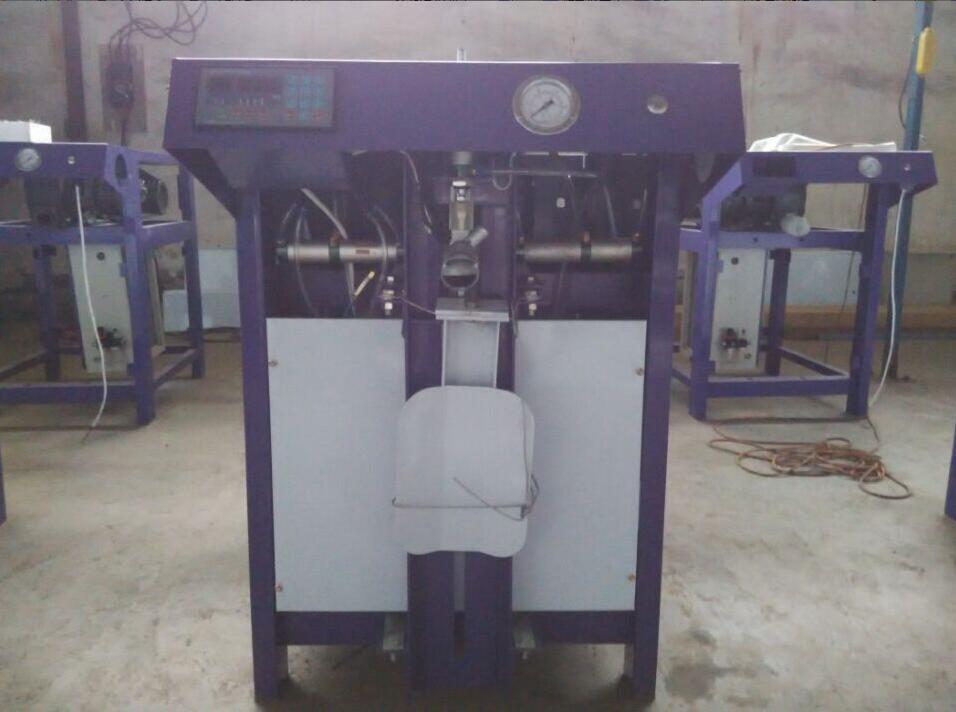 the characteristics of Valve bags weighing packaging machine
1.Very low failure rate of products. The header chip is made by STC, so the quality and measuring accuracy is much more reliable then other similarproduct in China.
2.Greatly increase the service life with the wear-resisting cast steel
3.It'easy for self-checking and maintenance with the concise and practical professional design.
4.The sensor use alloy steel material that can prolong the service life and improve accuracy.
5.According tothe solidstructureand reasonable design, further
ensures the accuracy of weighing
6.It's easy to use
7.high dust level. Can be safely used in dust environment
Equipment advantage of Valve bags weighing packaging machine
1) packing machine-meter, switch and facade)
1.the advantage of used import AD control chip dashboard: high measuring accuracy , resistance to dust and low failure rate.
2.Stainless steel switch characteristic: dustproof, waterproof and long service life.
3.with Electrostatic with coating hard surface and good anti-corrosion
2)packing machine--- discharge port
Discharge port have curved downward andthe material downward discharge
1.don't have shock to the packing bag
2.The material downward discharge less out of the dust
3)packing machine-controlcabinet
1.import control module, instruction ifast and exact with accurate measurement.All solid state seal, dust will not enter.
2.import AC contactor use silver alloy contact.Have long service life
3.The characteristics of plastic case circuit don't have spark in the contactor. it is durable and high security.
4)packing machine-oil-water separator
Microwave fiber filter ,high efficiencyand high separation effect.
1.Prolong the service life of the cylinder. 2.Material not agglomeration, non-clogging gas path
5)packing machine-discharge hose
The pure silica gel production, good elasticity, high durability
6)packing machine- solenoidvalve
1.The valve core is 304 stainlesSteel, no rust and stagnation
2.Pure copper coils
7)packing-machine sensor
1.Import resistance strain gauge.High precision
2.The strain gauge use solid-state gelatin package
3.Signal lines usebold copper wire
parameters of Valve bags weighing packaging machine
a.Ambient Temperature:-5℃~+40℃
b.0.4~0.6MPa Pressure access to the dry air: 0.4~0.6MPa
c.Equipment Power Supply: AC380V,three-phase four-wire
d.1100mm*670mm*1030mm.Overall dimensions:1100mm(L)*670mm(W)*1030mm(H)
Please Fill Your Contact Information