■ Overview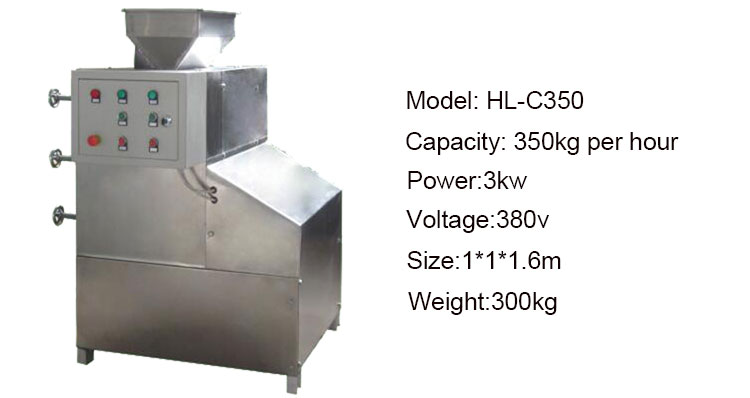 ■ Specifications
Structural principle:
This new powder cutting machine is based on the original chopper. Feeding by the elevator, the material to be cut can be evenly scattered in the feed hopper, which is favorable for uniform cutting. The rough cutting of the upper knife first, and then the second knife fine cutting. After milling with a knife, the particles become smaller step by step, and the gap between cutters can be adjusted to facilitate the cutting of different specifications of materials.
operating:
1. Before starting the machine, check whether the parts of the transmission are loose and whether there is any abnormal noise.
2. The electrical components of each connected power cord have no damage or leakage.
3. After checking the equipment is normal, start idling, followed by grading screen, cutter, hoist, turn off the opposite.
4. Remove the foreign material impurities from the dried material to prevent the cutter from being damaged. Then put the material into the hopper, adjust the size of the hopper discharge door and the speed of the conveyor belt, so that the feed and the cutter can be synchronised. .
5. Adjust the gap between the upper and lower cutters according to the customer's requirements and cut out the different specifications of the material
6. There are adjustment handles at the back and the back of the knife, loosen the handle to turn the handle, the adjustment gap is smaller inward, the cut-out particle size is small, and vice versa, there are scales on both sides of the reference adjustment plate. There is a positioning fulcrum inside the upper and lower knives, and the positioning can not be adjusted when the minimum clearance is reached, so as not to damage the blade when the two knives are in contact and affect the quality of the cutting.
7. The material to be cut enters the screen body and is classified by a sieve. Replace the sieve according to the customer's requirements to achieve the required product specifications
8. The cut-off phenomenon of the cut-off material should be eliminated so as not to affect the discharge of the material. The oil content is high, and the oil residue remaining on the equipment is cleaned in time to ensure hygienic cleaning.
9. The screen body has two structures, one is the inner rubber bearing of the screen body arm, and the other is the spring support and the vibration is transmitted.
10. Each drive component bolts, electrical appliances, wiring, regular inspection of the oil, there are problems to eliminate in a timely manner to ensure normal use.
11. The PVC belt of the hoisting machine may run away after a period of time. Fine-adjust the adjusting bolts at both ends, and do not adjust the height. Run with which side to the other side.
Please Fill Your Contact Information