■ Overview
specification of Triple Cylinder Rotary sand Dryer

Model

TDS-623

TDS-625

TDS-6210

TDS-6220

Shell Dimension

1.65m×1.8m×δ10

2.2m×2.5m×δ10

2.6m×2.7m×δ10

2.6m×3.8m×δ10

Power(kw)

4

5.5

7.5

7.5*2

Capacity(t/h)

3-5

5-8

10-13

20-23

Voltage(V)

\

\

\

\

Bedframe

1.4m(L)×1.2m(W)

2.2m(L)×1.48m(W)

2.5m(L)×1.7m(W)

2.8m(L)×2.7m(W)

Shell Material

Mn-steel

Mn-steel

Mn-steel

Mn-steel

Reducer Model

XWD-5

XWD-5

ZQ350

ZQ350*2

Discharge Hopper Dia.(mm)

φ1.2

φ1.4

φ1.5

φ1.5

Out of the warehouse

1.6m*4,
1.2m*2,
0.7m*2

1.6m*4,
1.2m*2,
0.7m*2

1.6m*4,
1.2m*2,
0.7m*2

1.6m*4,
1.2m*2,
0.7m*2

Rotary Speed(r/min)

9

9

9

9

Final Moisture

≤0.5%

≤0.5%

≤0.5%

≤0.5%

Highest Tem.

800℃

800℃

800℃

800℃

Outlet Tem.

50-60℃

50-60℃

50-60℃

50-60℃

Overall Dimension(mm)

××

××

××

4966×3940×3415

Overall Weight(kg)
■ Specifications
application of
Triple Cylinder Rotary sand Dryer
The machine is for drying granular materials within a certain humidity scope, for example, yellow sand in dry mortar industry, all kinds of sand in foundry industry(such as, river sand, quartz sand), slag in cement industry, clay ect. raw materials, widely used in building materials, chemical industry, small particle size casting, etc.. According to the requirements for final moisture after drying materials in different industries, the material moisture after drying can get to less than 1-0.5%.It can burn a variety of fuels such as coal, oil, gas.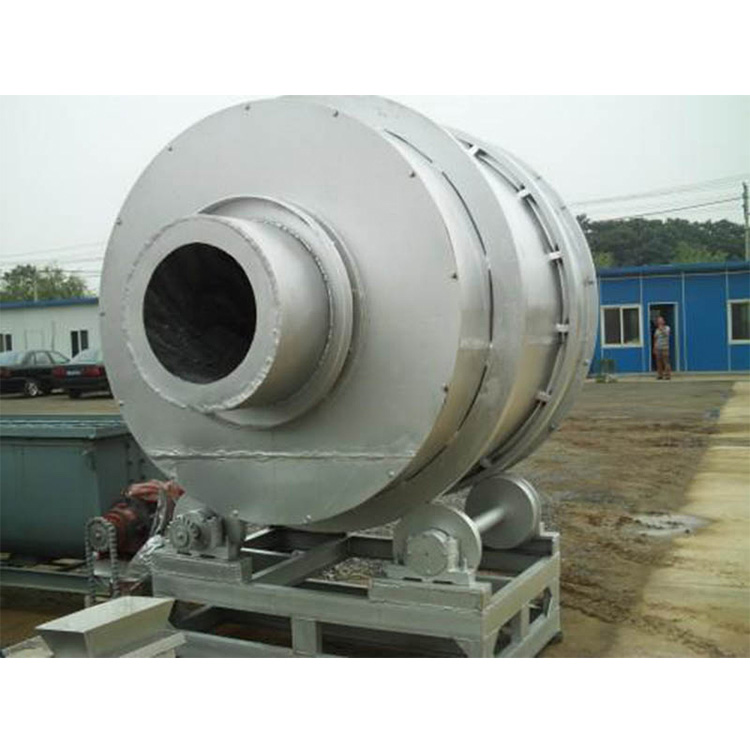 Features of Triple Cylinder Rotary sand Dryer
1. High technical, no wind leakage, thoroughly solve the sealing difficulties. Self-insulation cylinder body, 80% thermal efficiency (single- cylinder dryer is only 35%). It saves 68% coal and output increases 100% than single-cylinder dryer.
2.The length is good for technical layout, 60% shorter than single-cylinder dryer. Also it needs about 20m3 area, reducing plant area and saving 40% investment.
3.Adopt heat resistant and wear resistant steel plate, its wear resistant is quadruple of general steel plate, long service time and convenient to maintain.
4.Outside cylinder body temperature is below 60℃(single cylinder temperature is up to 150℃), with low outlet temperature. Exhaust gas temperature is below 120℃, The bag of dust collector can use for a long time, more than 2 times than single cylinder dryer; Low outlet temperature:temperature of discharging materials is below 60℃, materials can be directly put into warehouse, no need to cool down in cooling shed.
5.Low outlet temperature is good for keeping long service life. It can directly connect with bag type pulse dust collector.
6.

Construction investment is lower 50% and electric consumption reduce 60%.
窗体顶端
7.Adopt roller rotation, without large and small gear.
8.Hot air stove can support fluidized bed furnace, spray stove, hands burned furnace,applied to below 20mm materials such as lump material, granuler and power materials.
9.Output:5-200t/h various specification.
10.The initial moisture of materials is 15%, final moisture ensure 0.5-1% or less. It is preferred product of cement plant slag powder, dry mortar production line ect. all kinds of drying and other projects.

advantages of Triple Cylinder Rotary sand Dryer



1)Adjust outflow silt-quantity
1.Adjustable
2.Using adjustable outlet
3.the quantity of discharging sand can be adjusted according to actual production status.

2) Dryer Bedframe
1.With cooling device
2.Unique cooling device reduces the temperature of belt and roller during use.
3)Material and quality of belt
1. Widened to 20cm
2.Reduce wear rate,improve the service life of roller and running belt and Reduce later use-cost.
4) Cylinder
1. Slightly tilt
2.Feed port and discharging port has a little tilt, it greatly increases the output under the premise that quantity of heat,sand moisture and air input Are the same.

5) Internal Structure
1. Newest triple cylinder technology
2.There set more than 20 drying room inside of mixer, greatly increase the contact area of sand and heat, save fuel and large output during later use.

6)Stability
1. Whole positioning processing
2.The whole dryer process positioning after finishing the machine to ensure the stability and extend service life.

7) Stove
1.Multifunctional hot-blast stove
2.Bulky stove ensure enough heat required during working, applied to various fuels such as coal, wood, natural gas, diesel ect.

8) Big volume,dedusting efficiency is obvious.Bigger air inlet, larger volume,obvious,whirlwind effect, good dust removal effect.

9) Vibrating screen
Internally strengthen foil, reasonable mechanical design.Effectively protect the internal screen box, reasonable vibrating motor mechanical design, lining increased at the joint to extent the service life.
Please Fill Your Contact Information